Your responses to our questions suggest you are a high-risk investor. This means you feel most comfortable with a mix of investments that are mainly focused in the aggressive investment sectors of Australian and international shares. This type of investment mix is designed with a long-term investment timeframe of more than five years and provides the potential for strong growth over the long term.
There is strong potential for instability in the value of your investments over the short term. It is not suitable for investors requiring income return from their investments or investors with short-term investment timeframes.
Taking into consideration your risk profile and your investment time frame, the following chart shows the typical investment mix associated with this risk profile.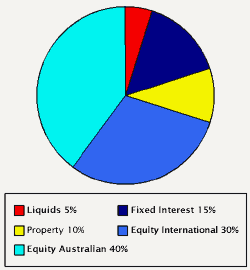 A Westpac Financial Planner can tailor an investment portfolio to help you meet your personal investment objectives and needs.
Make amendments to your responses in the questionnaire or return to try another tool.
To view other investor risk profiles select from the following: