0% p.a. for 26 months
On balance transfers. A 1% balance transfer fee applies. After 26 months, the rate reverts to the variable cash advance rate. New cards only#. Online exclusive.
Start with a balance transfer, finish like a boss.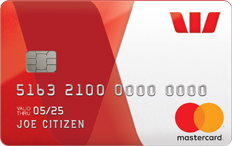 $0 annual card fee for the first year* ($59 annually thereafter)

Variable purchase rate of 13.49% p.a.
Variable cash rate of 19.49% p.a.
Here's why you'd choose our Low Rate card.

Transfer a balance
Take advantage of a 0% p.a. balance transfer rate with a new card (fee applies) and you could save interest on your card debt.#

Pay your balances down
Use our SmartPlan repayment planner to stay on top of balance transfers by breaking them into regular instalments.1



Limit your spending
Easily set transaction and transfer limits to place tabs on your spending and tailor how you use your card.
Things you should know
Consumer Credit Cards - Conditions of Use (PDF 258KB)
Be credit savvy: Before applying, consider a realistic credit limit and check all conditions, interest rates, fees and charges on your selected card.
Switches, upgrades, or Westpac Group staff are ineligible. This promotion may be varied or withdrawn at any time and is not available in conjunction with any other promotion. The balance transfer promotion and first year annual card fee waiver is available to customers who apply via this web page (offer not available in branch or via call centres) for a new Westpac Low Rate credit card between 30th November 2018 and 21st January 2019.
#Balance transfer promotion: This offer is available when you apply for a new Low Rate card between 30th November 2018 and 21st January 2019, and request at card application to transfer balance(s) from up to 3 non-Westpac Australian issued credit, charge or store cards. A balance transfer fee of 1% of the transferred balance(s) will be charged to the account on the same day the balance(s) are debited to the account. The promotional rate will apply to balance(s) transferred (min $200 up to 80% of your approved available credit limit) for the promotional period. Activating your card triggers the processing of the balance transfer. The applicable variable cash advance rate will apply to any unpaid balance transfer amount remaining at the end of the promotional period. We will not be responsible for any delays that may occur in processing payment to your other card account(s) and will not close the account(s). Interest free days do not apply to credit cards with balance transfers.
Annual card fee waiver: $0 first year annual card fee promotion. The first year annual card fee waiver is available when you apply for a new Westpac Low Rate credit card between 30th November 2018 and 21st January 2019. The first annual card fee will be debited on the 12 month anniversary of the first transaction (including balance transfers) on your account and annually thereafter
1 SmartPlan Disclaimer: SmartPlan requires monthly payments to be made for the term calculated and at the applicable interest rate when the SmartPlan is entered into. All payments made to your account will be applied first to any SmartPlan instalments, so debts accruing a higher interest rate may be left unpaid during the SmartPlan term. Your balance transfer must have a maximum of 36 months and a remaining term of at least 3 months to be eligible for a SmartPlan. Fees may apply with some SmartPlans. See SmartPlan for more details. SmartPlan cancellation takes up to 2 Business Days. Any SmartPlan Remaining Balance will revert to the variable interest rate for your balance type or special offer rate as applicable.
Westpac is the credit provider and credit licensee under National Consumer Credit Laws.