International student bank account
A Westpac Choice everyday bank account for students who have recently arrived in Australia to study
We have temporarily suspended account opening for people outside of Australia due to the COVID-19 related travel restrictions set by the Australian Federal Government.
If your travel plans have been affected due to COVID-19 and you're unable to travel to Australia, please contact us.
Pay no Account-Keeping Fee for the first 12 months
And if you're a student you won't pay anyAccount-Keeping Fee while you're a full time student or under 30 in Australia

ATM network at home and overseas
Pay no withdrawal fee at any major bank ATM in Australia (including Westpac, Commonwealth Bank, ANZ, NAB, St.George, Bank of Melbourne and BankSA) and at over 50,000 ATMs globally via the Global ATM Alliance and partner ATMs 1

Open an account in 3 min and you're on your way to depositing money into your account
You will need to verify your identity at a branch in Australia before you can withdraw funds*

Shop and get money out with a Debit Mastercard®
Use your Debit Mastercard®2 to shop securely online, access cash at ATMs and use PayPass™ to tap and go on purchases under $100

Apple Pay
Apple Pay offers a fast and secure way to pay in-store and online, using your favourite Apple device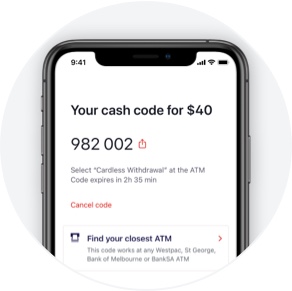 Use your phone instead of your card to get out cash
Withdraw cash using your phone from any Westpac, St.George, Bank of Melbourne or BankSA ATM3

Lock your card
Can't find your card? You can temporarily lock it in seconds with card on hold while you search4
Wait - did you say 2.5%?
18-29? You could earn up to 2.5% p.a. variable interest on your savings when you save and spend with a Westpac Life savings account and a Westpac Choice bank account.
Spend&Save bonus interest only applies on balances up to $30,000 in your Westpac Life savings account. Find out more
Standard fees (fees may change)
Amount
ATM cash withdrawals in Australia (ATM providers may charge a fee – watch out for that!)
$0
Overdrawn Fee
$15
Overseas Withdrawal Fee from a Global Alliance Partner ATM (for more information on Global Alliance Partners see Accessing your accounts overseas)
$0
Overseas Withdrawal Fee from a non-Global Alliance Partner ATM
$5
Transactions made in foreign currency, and the merchant or financial institution is l

ocated outside Australia

3% of the AUD transaction amount
Transactions made in foreign currency, and the merchant or financial institution is located in Australia
2.2% of the AUD transaction amount
Card on hold
Can't find your card? Don't panic, you can temporarily lock it in seconds with Card on Hold while you search7.
Fraud Money Back Guarantee
Shop securely with your debit card. We've got your back with 24/7 fraud monitoring and our Fraud Money Back Guarantee8.
Westpac Protect™ SMS Code
Increase your security when banking online by using your mobile phone to confirm certain transactions via text messages.
Safe Online Banking guarantee
If your Westpac account is compromised as a result of Internet fraud, we guarantee to repay any missing funds, providing you comply with our Online Banking Terms and Conditions.
Things you should know
Before making a decision about any of our products or services, please read all the terms and conditions and consider whether the product or service is right for you. Fees and charges apply and may change.
1. Global ATM: A 3% Foreign Transaction Fee applies to overseas debit or credit card withdrawals. A 2% cash advance fee applies to credit card withdrawals where the "Credit" option is selected. A list of
Global Alliance members
is available. It is important to know that the functionality to withdraw money from a linked Westpac account via Credit Card is not available when using overseas ATMs, including Global Alliance ATMs. To ensure access to Savings and or Cheque account funds when overseas please speak to us about obtaining a Debit Mastercard
®
.
2.
Debit Mastercard®
: holders need to be at least 14 years of age, and have an Australian residential address to be eligible for the card. If you're not eligible for a Debit Mastercard, apply for a Handycard to access your account. Once you arrive in Australia you can request a Debit Mastercard
®
. Read the
Terms and Conditions (PDF 372KB)
and decide whether the product is right for you.
3. Cardless cash: is available on eligible Westpac transaction accounts with a linked debit card. Get Cash limit of 3 withdrawals per day applies, subject to $500 daily withdrawal limit and $1,000 weekly withdrawal limit. Only available at Westpac Group ATMs in Australia. To access cardless cash on your mobile you must be registered to use Westpac Online Banking and download the Westpac Mobile Banking App. To use Westpac Mobile Banking on Apple Watch you'll need to pair your Apple Watch with an iPhone 5 or above with iOS 8.2 or above. You'll also need the Westpac Mobile Banking app (version 6.1 or above) installed on your iPhone.

4. Card on hold: Available on personal credit and Mastercard® debit cards only. Cards to which a temporary lock can be applied will be listed when you sign in to Mobile Banking or Online Banking and visit Lock a card temporarily under Cards services.

* For your account to be fully functional, you need to visit a Westpac Branch to complete your verification checks once you have arrived in Australia. You can only withdraw or transfer funds from your account after your identity has been verified by our Branch staff in Australia. We recommend you apply for your accounts and deposit funds to these accounts after you've received a valid Australian visa.


Read the Apple Pay Terms and Conditions (PDF 79KB) before making a decision and consider if it is right for you. To use Apple Pay you will need an eligible card and a compatible device with a supported operating system. See our Apple Pay FAQs for more information. Apple, the Apple logo, Apple Pay, Apple Watch and iPhone are trademarks of Apple Inc., registered in the U.S. and other countries. App Store is a service mark of Apple Inc.
World Mastercard ®, Mastercard ® and the Mastercard brand mark are registered trademarks of, and PayPass TM is a trademark of, Mastercard International Incorporated.