No monthly service fee for 12 months
Open a new Westpac Choice account
Open a new Westpac Choice account online and we'll waive the $5 monthly service fee for the first 12 months.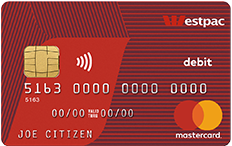 Introducing the Westpac Choice account - discover simple everyday banking.
Cardless cash
Use Cardless Cash to withdraw cash with just your phone from over 3000 Westpac Group ATMs1

Card on hold
Can't find your card? Put a temporary hold on your card from anywhere in the world2.
Transfers and payments
Perform real-time transfers between accounts or set up automatic payments to pay off your Westpac credit cards
Things you should know
Deposit Accounts for Personal & SMSF customers Terms and Conditions (PDF 1MB)
Westpac Debit Mastercard® Terms and Conditions (PDF 3MB)
Westpac Emergency Cash and Westpac Get Cash Terms and Conditions (PDF 117KB) (PDF 91KB)
Online Banking Terms and Conditions (PDF 1MB)
Find out what information you need to provide to become a customer (PDF 768KB) (PDF 768KB)

This information does not take your objectives, financial situation or needs into account. Read the terms and conditions before making a decision and consider if the product is right for you. Fees and charges apply and may change.


Monthly service fee waiver for first 12 months promotion is available to select existing customers who have received a communication about this promotion and who apply and open an individual Westpac Choice account online before 30 June 2018. The promotion may be varied or withdrawn at any time and is not available in conjunction with any other offer. Offer excludes customers who are eligible to open a Westpac Choice account designed for those that are under the age of 21 or full-time tertiary students; Australian Pensioner Concession or Health Care Card holders; or New to Australia or expatriate customers where the monthly service fee waiver is a standard feature of the account.

1. Cardless cash: is available on eligible Westpac transaction accounts with a linked debit card. Get Cash limit of 3 withdrawals per day applies, subject to $500 daily withdrawal limit and $1,000 weekly withdrawal limit. Only available at Westpac Group ATMs in Australia. To access cardless cash on your mobile you must be registered to use Westpac Online Banking and download the Westpac Mobile Banking App to use Westpac Mobile Banking on Apple Watch you'll need to pair your Apple Watch with an iPhone 5 or above with iOS 8.2 or above. You'll also need the Westpac Mobile Banking app (version 6.1 or above) installed on your iPhone.

2. Card on hold: available on personal credit and Mastercard® debit cards only. Cards to which a temporary lock can be applied will be listed when you sign in to Mobile Banking or Online Banking and visit Lock a card temporarily under Cards services.