Goal saving account
Westpac Life could help you reach your savings goals sooner by earning bonus interest every month you save.
It's easy to earn bonus interest
Earn up to 1.65% variable interest, including 0.45% standard variable base rate on all your savings plus 1.20% variable bonus rate each month you grow your balance, no matter how many withdrawals you make. 1

Bucket your money
Saving for more than one thing? With our handy Savings Goals 2 feature you can bucket your savings into different goals within the one account.

No account fees
We won't charge you any monthly or online transfer fees, helping your money to keep growing. 3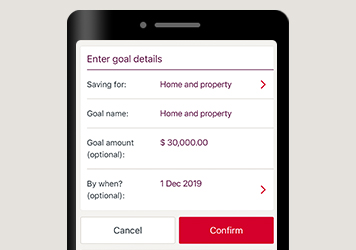 1. Set up your personalised savings goals
You can name your goals, set the amount you'd like to save and when you'd like to reach your goal by.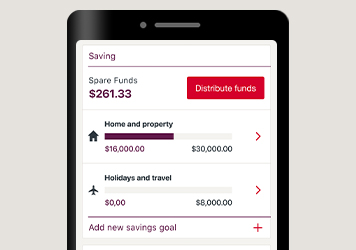 2. Distribute your savings across your goals

When you add to your savings you can distribute the money across your different goals.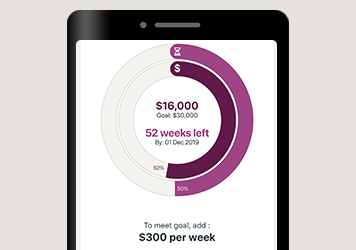 3. Track your progress

Select a savings goal to see how you're doing.

Safe Online Banking guarantee
If your Westpac account is compromised as a result of Internet fraud, we guarantee to repay any missing funds, providing you comply with our Online Banking Terms and Conditions4.
Protected under the Financial Claims Scheme
Westpac Life is a "protected account" under the Australian Government's Financial Claims Scheme5.
Westpac Protect SMS code
Increase your online banking security by using your mobile to confirm certain transactions via SMS.
Savings Goals3 makes it easy to manage your long and short term goals within a single account. Through Online Banking you can set up personalised savings goals, track your progress, and get savings calculations which could help you stay on track.
| Total variable interest rate | Up to 1.65% p.a. |
| --- | --- |
| Standard variable base rate (when no standard variable bonus rate applies) | 0.45% p.a. |
| Standard variable bonus rate | 1.20% p.a. |
How do I earn bonus interest on my Westpac Life account?
Bonus interest is payable each month that you:
Make a deposit to the account;
Ensure your account balance is higher at the end than the beginning; and
Keep your account balance above $0 at all times.
A month is the period from close of business on the last business day of the previous month to close of business on the last business day of the current month.
When is interest paid to my Westpac Life account?
Interest is paid on the last business day of each calendar month. Balances in your account on and after the last business day won't be included in the interest calculation for that month but will be included in the interest calculation for the following month. Balances include deposits made to your account.
| Standard fees (fees may change) | Amount |
| --- | --- |
| Monthly service fee | $0 |
| Online Banking withdrawal (including Mobile Banking) | $0 |
| Telephone Banking withdrawal (self service) | $0 |
| Telephone Banking withdrawal (staff assisted) | $2.50 |
| Branch staff assisted withdrawal | $2.50 |
| ATM transactions | N/A |
| Account overdrawn fee | N/A |
| Outward dishonour fee | N/A |
| EFTPOS | N/A |
There are no fees for Online Banking or Automated Telephone Banking transfers from a Westpac Life account to a Westpac everyday account held in the name of the account holder or authorised user who is requesting the transfer. To access your money, we recommend you transfer funds to your Westpac everyday account and then make your withdrawal or payment.
Direct debits, periodical payments, BPAY®, Pay Anyone, cheque withdrawals and ATM transactions are not available from a Westpac Life account.