Take your pick from our helpful savings options
Now that the introductory rate on your eSaver account has expired, why not consider your options to make the most of your savings?
How your interest rate compares now that your eSaver introductory rate has expired.
Want a flexible account that rewards you for saving? With a Westpac Life account, you can enjoy:
Bonus interest
Get a variable bonus savings rate each month your balance grows.1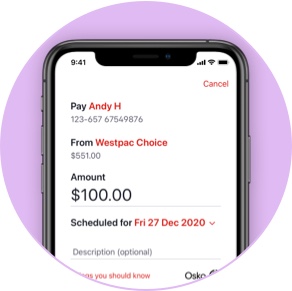 Unlimited access
Make as many transfers to a linked Westpac everyday account as you need.2
Savings Goals
Set up and track your personalised savings goals via Online Banking.3
Prefer a fixed-term savings rate?

Pick the term that suits you and enjoy the security of a fixed interest rate.
Manage your account via Online Banking; no need to call or visit a branch.
Choose to have your interest paid monthly, keeping your income regular.
Choose a rate and term
Things you should know
Before making a decision about any of our products or services, please read all the terms and conditions. Fees and charges apply and may change.
1. Variable Bonus interest Up to 0.55% p.a. calculated based on 0.20% p.a.. standard variable base rate plus 0.35% p.a. variable bonus rate payable each month when you: make a deposit to the account: ensure the account balance is higher at the end than the beginning of the month, and keep the account balance above $0. For variable bonus interest qualification, a month is the period from close of business on the last business day of the prior month to close of business on the last business day of the current month.
2. Westpac everyday account: To open a Westpac Life account, customers must hold a Westpac everyday account in the same name and be registered for Online and Phone Banking. Fees and charges may apply on the everyday account.
3. Savings Goals: Both an account holder and an authorised user can use the Savings Goals feature, including to view, add, edit and delete the savings goals on a Westpac Life account.
4.
Safe Online Banking guarantee
: ensures that customers will be reimbursed for any unauthorised transactions provided that the customer has not contributed to the loss and contacted Westpac promptly. Refer to the Westpac
Online Banking Terms and Conditions (PDF 277KB)
for full details, including when a customer will be liable.
5.
Financial Claims Scheme:
payments under the FCS are subject to a limit for each depositor. For more information visit
www.fcs.gov.au
.
More on Term Deposits
Westpac Live will be available to update Term Deposits from 8:00 am to 9.30 pm on a Business Day and 8:00am to 4:00pm Saturdays (Sydney time)

Conditions, fees and charges apply. These may change or we may introduce new ones in the future. Full details are available on request. Lending criteria apply to approval of credit products. This information does not take your personal objectives, circumstances or needs into account. Consider its appropriateness to these factors before acting on it. Read the disclosure documents for your selected product or service, including the Terms and Conditions or Product Disclosure Statement, before deciding. Unless otherwise specified, the products and services described on this website are available only in Australia from Westpac Banking Corporation ABN 33 007 457 141 AFSL and Australian credit licence 233714.