Earlier this month, Qantas kicked off a new sale hailing that Australians could "fly Away to the USA and beyond from $799".

While eye-catching, it's a familiar sight for the industry amid ongoing strong competition on international routes that has pushed prices near the lowest level in decades.

According to The International Air Transport Association, the average return fare (before surcharges and tax) is set to fall 4.3 per cent to $US355 in 2018 – 64 per cent lower than in 1996, after adjusting for inflation. And routes out of Australia, such as to the US, are experiencing strong competition amid healthy demand for international travel, despite the easing of the Australian dollar from parity with the greenback in recent years.

Cheaper jet fuel prices and stiff competition among additional foreign airlines is credited for the airfare price declines. For travellers, it's helped offset the blow from the fall in the Australian dollar, which has increased costs upon arriving at overseas destinations.

As 2017 comes to a close, whether traveling or sending money overseas it pays to shop around as banks cut fees, such as Westpac's lowering this week of international payments in foreign currency to $10 when done online. Watching how the Australian dollar is tracking against the currency of your destination is also helpful in an increasingly dynamic market that can be affected by the latest geopolitical or central bank development. Westpac's live FX rates are published online, providing visibility of fees and conversion rates prior to transacting.

Robert Rennie, Westpac's global head of market strategy, says the sheer size of foreign exchange markets – which set the exchange rates for floating currencies like the Australian dollar – means currencies are vulnerable to one-off shocks. The markets never close and are the most liquid in the world, averaging around $US5.1 trillion of trading per day, according to estimates from the Bank of International Settlements.

"Whenever a piece of information is released around the world, foreign exchange markets are open and ready to absorb it into currency prices," he explains.

"Depending on whether the news is good or bad, the market looks for currencies to buy or sell."

Rennie points to the shock Brexit vote in June 2016, which saw the pound swiftly drop by more than 10 per cent within hours of the outcome being known and hit its lowest level since 1985 within 3 months. "A few months later, we had the surprise Trump election victory and that saw the US dollar appreciate by more than 10 per cent against the Japanese Yen through to the beginning of this year and then weaken by a similar amount when markets questioned whether his agenda was meeting expectations."

Australia has not been spared similar wild moves since the floating of the Australian dollar in December 1983 by the Hawke Labor government, allowing the currency to be set by market forces, most commonly the global price of the nation's major exports. It reached an all-time high of $US1.10 in July of 2011 as the mining boom pushed iron ore prices to record highs. At the lows of April 2001, the dollar languished around US48c, a symptom the country being viewed as an "old economy'" at the peak of the dot.com bubble, according to former Reserve Bank of Australia Governor Glenn Stevens. At its full-year results last month, Westpac's economics team forecast the dollar to ease to US70c by December next year.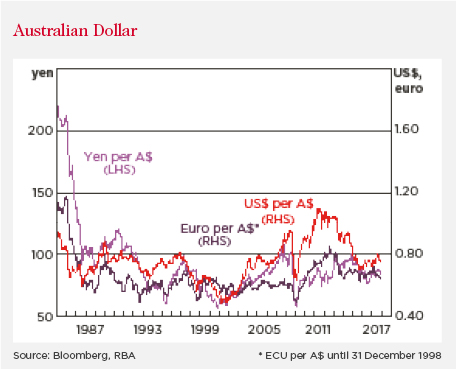 But even during times of relative weakness for the currency, Australians' love of travel still sees millions head offshore every year for work and play. Qantas boss Alan Joyce has previously noted that Australians tend to "compensate" for a weaker currency by spending less when away.

Data from Tourism Research Australia shows 10 million Australians travelled overseas in the year ending June 2017, up 4 per cent on the previous 12 months. The most popular destination was New Zealand, followed by Indonesia and the United States, as return airfares from Sydney to New York sunk as low as $870.

Regardless of the value of the Aussie dollar, travellers should consider the cost of converting it to another currency and factor that into how they plan for their trip, says Kim Merlo, Westpac's head of retail FX.

"Many people still use their credit cards overseas, however they often won't know what the foreign exchange rate or fees will be until they get home and get their bank statement," she says.

To avoid hidden fees, Merlo says many travellers are opting for travel cards, which allow them to add money in their own currency at any time online within seconds and then convert it when the time is right. "There are zero fees attached to it. If you use it at one of the ATMs we're aligned to – and there are about 50,000 of them globally – there are no exchange fees," she says.

When sending money overseas from Australia, Merlo says Westpac last year created LitePay after research showed migrant customers felt the traditional way of sending money home was either very expensive, not transparent or too hard to understand. It allows people to send up to $3000 a day in currencies such as pesos, euros, pounds and rupees for $5-8 per transaction with average transfer being around $900. "We launched in the UK in March 2017 and we were growing at 20 per cent per month for the first four months," she says.