Get set for Black Friday.
Get $30 on us and avoid the 3% foreign exchange transaction fee when shopping with a Global Currency Card.
Get $30 on us for Black Friday
Open a new Global Currency Card, load and convert $1,500 AUD or more into any available foreign currency by 21 December 2018 and receive $30 AUD cashback*. T&Cs apply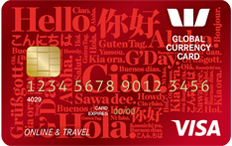 Make the most of your online shopping
No foreign exchange fee
Avoid the 3% foreign exchange fee1 when shopping online in US Dollars and other supported currencies, like British Pounds. Foreign exchange fees can eat into your online shopping savings - a 3% fee on a $1000 spend costs you $30.

Know how much your spending
Lock in an exchange rate in advance so you'll know exactly how much you have to spend.
Quick & easy to load
Load funds instantly through Online or Mobile Banking when you select your Global Currency Card as a "To" account.
Security on your purchase
With Visa Zero Liability2 it will protect you from fraudulent charges or unauthorised purchases.
1. Order your Global Currency Card now.

2. Activate your card
3. Load instantly with AUD in Online or Mobile Banking
4. Convert minimum $1,500 AUD to any of the available foreign currencies between November 1 to 21 Dec 2018 and get $30 cashback* on us
If you choose to load funds via BPAY or via another financial institution, the transfer may take may take 3-5 business days. So be prepared for the sale, load now.
You can keep using your card to shop online in your chosen currency or withdraw cash in AUD from any Westpac Group ATM without paying any ATM withdrawal fees. Or use when travelling overseas. Fees may apply.
The biggest online shopping event of the year, Black Friday originated in the US. Held on the first Friday after Thanksgiving, Black Friday is now popular with shoppers in Australia, the UK and other countries.
Find out more

Things you should know
* AUD 30 Cashback: Offer opens 1st November 9:00 AEST and closes 11:59 AEST on 21 December 2018. Offer is open to all residents of Australia aged 16 years or older. Offer may be withdrawn or extended at any time and is not available in conjunction with any other offer. Westpac Group employees are eligible to receive this offer. To be eligible for this offer, customers need to open a new Westpac Global Currency Card Account ("Westpac GCC") either via Online or Mobile Banking, load and convert $1,500 AUD or more into a foreign wallet on the Westpac GCC before 11.59 AEST on 21 December 2018. Eligible customers will receive $30 AUD cashback onto their Westpac Currency Card between 6-8 weeks after the offer end date, the account needs to remain open for 8 weeks after the offer end date so that we can credit your account. Offer limited to one $30 AUD cashback per eligible Westpac Global Currency Card Account.

A 3% Westpac Foreign Exchange Fee applies to overseas transactions in a currency other than a Supported Currency. US Dollars are a supported currency.
Visa Zero Liability Policy covers Australian and New Zealand issued cards and does not apply to ATM transactions, transactions not processed by Visa, or certain commercial card transactions. Cardholders should notify their issuer promptly of any unauthorised Visa use. Please consult the card issuer for additional details.
Westpac Global Currency Card PDS (PDF 696KB)
Westpac Global Currency Card Brochure (PDF 235KB)
Westpac Global Currency Card Privacy Policy (PDF 69KB)
Information is current as at 1 May 2017. You should read the Westpac Global Currency Card Product Disclosure Statement before making a decision and consider whether this product is appropriate for you. This information does not take into account your personal objectives, financial situation or needs and you should consider its appropriateness having regard to these factors before deciding to acquire this product. You must be 16 years or older and have an Australian residential address to be eligible for this product. Westpac Banking Corporation ABN 33 007 457 141 AFSL and Australian credit licence 233714 (Westpac) is the distributor of the Product. Rev Australia Pty Ltd ACN 117 378 953 AFSL 401610 manages the Westpac Global Currency Card product for Cuscal Limited 087 822 455 AFSL 244116, an authorised deposit taking institution and a member of Visa International. Cuscal Limited is the issuer of the Product only, and does not take deposits from you. Westpac is not responsible for and does not guarantee the Product or Card, your ability to access any prepaid value or the use of this Product or Card. Amounts held on the Product do not represent a deposit with, or any other liability of Westpac or any company in the Westpac Group. Read the Westpac Online and Mobile Banking terms and conditions at westpac.com.au before making a decision and consider whether the product is appropriate for you. Internet connection is needed to access the Westpac Global Currency Card app and Westpac Online and Mobile banking. Normal mobile data charges apply.
We support Apple iPhone iOS 6 and above and Android™ 2.3 and above. Apple, the Apple logo and iPhone are trademarks of Apple Inc., registered in the U.S. and other countries. App Store is a service mark of Apple Inc. Android is a trademark of Google Inc.
BPAY is ® Registered to BPAY Pty Ltd ABN 69 079 137 518.