7 things you can do to get ready for potential COVID restrictions
Whether it's further restrictions or your need to self-isolate, here are some things you can do to get yourself prepared.
September 2020 – 3 minute read
Key takeaways from this article:
Supplies it's worthwhile having
Sorting out your online banking
How you'll entertain yourself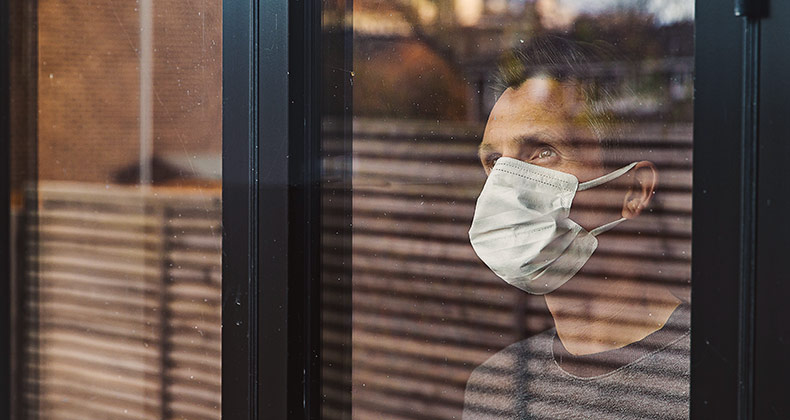 Unfortunately, when it comes to living in the time of COVID-19 it seems the only thing definite is there's likely to be a lot of uncertainty for quite a while yet. Whether you're affected by lockdowns and curfews due to new cases, or you need to go into self-isolation and stay at home, here are some things you can do to help get yourself prepared for a lockdown.
1. Check up on your food staples supply (but there's no need to hoard)
Check that you still have enough basic food staples in the pantry such as pasta, rice, canned vegetables, tea, coffee and snacks, in case you need to self-isolate for 14 days. There's no need to hoard – this will help make sure no one goes without due to shortages, particularly vulnerable members of the community.
2. Stock up on basic medical supplies, face masks and any medications
It's a good idea to put together a first-aid kit that can treat common injuries. If you already have one, make sure your first aid supplies are up to date. It's also worthwhile having a supply of facemasks on hand.
If you're on prescription medication, talk to your GP about how long a supply you should have.
3. Sort out your online banking
If you haven't done so already, it's important you're able to take care of your banking online. If you're not used to managing your money this way, it's understandable it may seem daunting. But it really is both easy to use and easy to set up. Once you're registered, you can access your banking via your computer, mobile phone or tablet to do everyday things securely such as check your account balances and pay bills.

Find out more about registering for Westpac Online and Mobile Banking

You may also want to take a look at our Online & Mobile Banking FAQs (PDF 175KB)
4. Have a go at ordering online
It's true – everything from sorting out your groceries online to sorting out what you want to order in for dinner online has become the norm. But that doesn't mean that everyone does it.

If you haven't tried online shopping or ordering from your smartphone or computer, it might be worthwhile doing a test run – you might not need to use it, but having the confidence to do it upfront could help should you find yourself needing to.

Think about having a go ordering your groceries online with Coles or Woolworths or ordering dinner with apps such as Uber Eats and Deliveroo.
5. Think about how you'll entertain yourself
Make sure you've got a variety of ways to keep yourself entertained. Yes, there's Netflix and other steaming services, but it's also a good idea to have more forms of entertainment on hand, such as books, cards and board games. Think about any hobbies or projects you could also easily work on during the time you have to stay at home.

It's also important to think about how you'll keep your body moving and what exercise you can do. An inexpensive at home option could be as simple as buying a skipping rope, but you could also look at online fitness and yoga sessions.
6. Keep in touch with family and friends
Even if you can't catch up face-to-face, make sure you're able to keep in touch with loved ones – particularly older people and anyone who is living alone. There's a range of communication apps such as WhatsApp, Skype and Messenger you can use to check in.
7. Put some savings aside if you can
If you're in a position financially to do so, think about putting some money aside on a regular basis to start building up an emergency fund.

Find out more about setting up your own emergency fund

It might also be a good time to look at your budget and see where you could be tweaking your spending to make savings during this time. Westpac's financial education specialists, the Davidson Institute, have created a handy Cost-cutting checklist (PDF 216KB) for ways to help save money on regular expenses. You can also get ideas for budgeting tips on the Davidson Institute website, along with a downloadable step-by-step budget planner.

This video has some handy tips on how you can develop good spending habits.

Explore more simple ways you can take charge of your finances with our managing money 5 steps to getting on track guide.
You may find these useful
Things you should know
This information is general in nature and has been prepared without taking your objectives, needs and overall financial situation into account. For this reason, you should consider the appropriateness for the information to your own circumstances and, if necessary, seek appropriate professional advice.

© Westpac Banking Corporation ABN 33 007 457 141 AFSL and Australian credit licence 233714.