Protect yourself from COVID-19 related scams
The Australian Government is encouraging everyone to be aware of new scams relating to COVID-19 (Coronavirus). While keeping your financial and personal information safe is one of our top priorities, there are some things you can do to minimise risks.
3 types of scams to be aware of
Simple ways to protect yourself
1. If you receive a suspicious phone call, SMS or email claiming to be from Westpac, please give us a call on 132 032 or forward it to 0497 132 032 or hoax@westpac.com.au for investigation then delete.

2. Remember that genuine Westpac emails will not include links to sign in pages, or ask for your personal information, account details, PIN or passwords.

3. Ensure your computer has up-to-date security software.

4. Stay up-to-date on the latest security advice via our dedicated page.

5. Regularly visit the Scamwatch website run by the Australian Competition and Consumer Commission (ACCC).
Examples of COVID-19 related scams
1. SMS scam
This smishing SMS requests that you update your contact details and provide a link to do so. By clicking the link you will be take to a fake sign in page (a phishing website) which requests your personal banking information.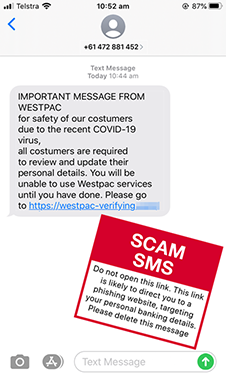 2. Email scam
This email implies that Westpac requires action on your behalf. It contains a link taking you to a phishing website which then asks for personal banking information.

How we're protecting you
Our Fraud Money Back Guarantee and Online Banking Security Guarantee both ensure you're reimbursed for any unauthorised transactions (provided that you haven't contributed to the loss). We also have a 24/7 fraud specialize team who will get in touch if any suspicious transaction are detected. Find out more.


Getting back on your feet financially
Explore our resources and tools aimed at helping you recover and get back on track after tough times.
Things you should know
Eligibility conditions apply. Westpac customers who wish to utilise these special relief measures or need assistance should contact Westpac Assist on 1800 067 497 or speak with their Relationship Manager.


Interest rates are subject to change. Terms and Conditions and eligibility criteria apply.


© Westpac Banking Corporation ABN 33 007 457 141 AFSL and Australian credit licence 233714.