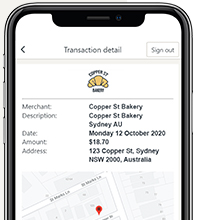 Putting a name to a place
Businesses, like your local cafe, sometimes trade under a different name to the one they registered. So, you might not always recognise the name on your statement.
To help you identify these purchases, you can use the Look Who's Charging feature. You'll see more details like:
The trading name and logo
A map of the transaction location
An address, phone number, and website if available
How do I dispute a card transaction?
You can do this in Online Banking or the Westpac App. If the transaction is pending, wait until it clears.
Need to download the Westpac App?