Download and install guide
Trusteer Rapport
As IBM® Security Trusteer Rapport™ is owned by a 3rd party entity and not a Westpac product, please be aware you'll need to accept Trusteer's End User Licence Agreement during the install.
Step 1.
Select the download link for either Windows or Mac depending on your operating system.
To download Trusteer Rapport please select from the links below:
Note: Please ensure you read the End User Licence Agreement issued by Trusteer during download and installation.

Step 2.
Open the Trusteer Rapport file and select 'Run'.
Step 3.
You will get one of the following pop ups. Select 'Run' or 'Yes' as appropriate.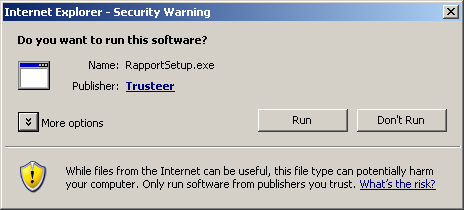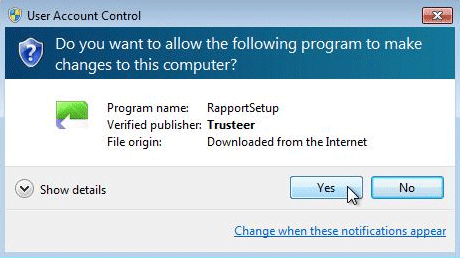 Step 5.
Trusteer Rapport will commence installation.

Step 6.
When the setup wizard appears, select 'Install'.

Step 7.
Once installed, Trusteer Rapport will automatically run a compatibility test.

Step 8.
Upon completion of the compatibility test, Trusteer Rapport has been installed successfully.

Step 9.
After installation the Trusteer Rapport icon will appear next to your browser's address bar.

You're protected - the icon is green when your information is safe:

If you click on the green icon, this pop up will appear.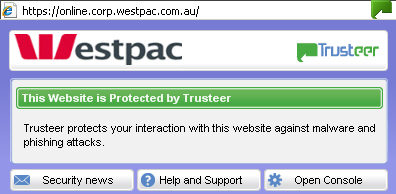 No protection - the icon is grey:
You can manually protect any sites, by selecting the Trusteer Rapport icon and clicking 'Protect this site'.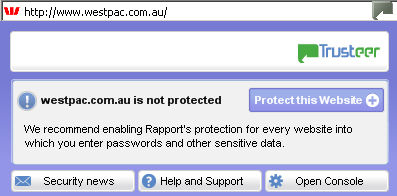 Westpac recommends that you protect any website that contains private or personal information. Examples include:
Online banking and brokerage accounts
Emails (such as hotmail, gmail, yahoo)
Social networking sites
Online merchants (such as eBay and Amazon)