Download and install guide
IBM® Security Trusteer Rapport™ is easy to download and installs within minutes and will operate immediately upon installation. You simply install it on every computer used to access Corporate Online.
Step 2: Run the installation file
Open the Trusteer Rapport file and select 'Run'.
You may get one of the following pop ups, if you do, select 'Run' or 'Yes' as appropriate.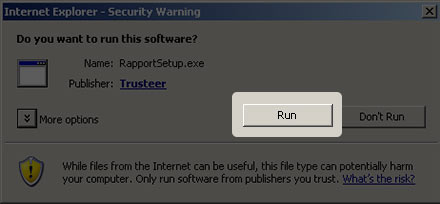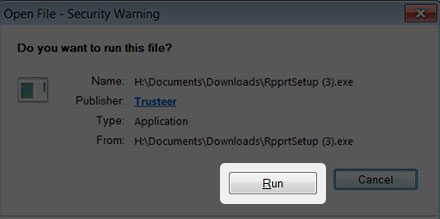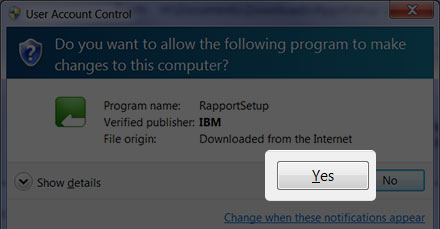 Step 3: IBM Security Trusteer Endpoint Protection Installer
Select 'OK' and the downloading and installing of the setup package will commence.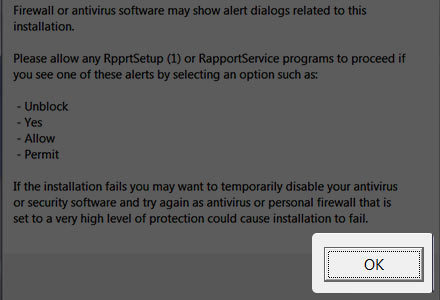 Step 4: Read & Accept Licence Agreement
As Trusteer Rapport is owned by a 3rd party entity and is not a Westpac product, please be aware you'll need to accept the IBM Security Trusteer's Endpoint Protection User Licence Agreement during installation.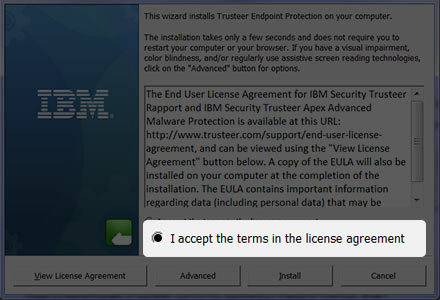 Step 5: Installation completed – you are now protected by Trusteer Rapport
After installation the Trusteer Rapport icon will appear next to your browser's address bar.
You're protected - the icon is green when your information is safe.

For example:
a) Internet Explorer


b) Mozilla



Selecting the green icon, this pop up will appear.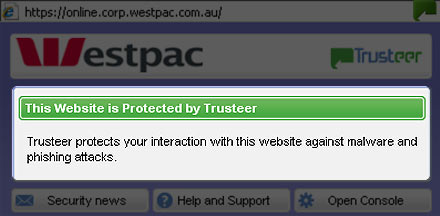 When there is no protection – the icon is grey:
Westpac recommends that you protect any website that contains private or personal information. Examples include:
Online banking and brokerage accounts

Emails (such as hotmail, gmail, yahoo)

Social networking sites

Online merchants (such as eBay and Amazon)
You can manually protect any sites, by selecting the Trusteer Rapport icon and clicking 'Protect this site'.