How to switch security devices
From SecurID® token to Westpac Protect™ SMS Code.
As an Administrator, you can switch security devices for a Business User.
If the SecurID® token User does not require a Daily Payment Limit of $200K or more, you can switch them to Westpac Protect™ SMS Code. This means they would be able to use a nominated phone to approve payments and make changes.

Note: If the User requires a Daily Payment Limit over $200k, or is not able to receive text messages, they may need a replacement SecurID® token. To order a new SecurID® token, refer to the How to order a replacement token for expiring or expired tokens how-to guide.


Step by step guide
Click More features and then Security devices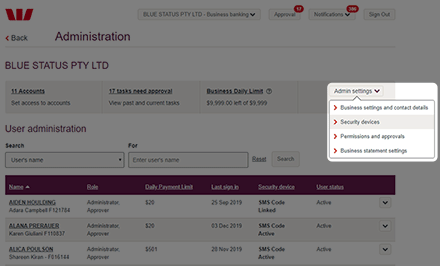 Find the row containing the user, click the menu arrow at the end of the row and select Switch to SMS Code option.

Tip box
A User can only have one active security device at any one time i.e. either Token or SMS Protect
The security device is not active until the user logs in to their own profile to activate device