Genie
Take payments and manage invoices on the go.
Take payments on the go with Westpac's Genie. It's small enough to fit in your pocket, but powerful enough to track your sales, and even send, manage and chase invoices. Genie is a little bit of magic that makes getting paid easier.
With Genie you'll get the tools you need to manage your business on the go:
Genie App
Take payments, track sales and manage invoices from your mobile. Works with AndroidTM and iPhone. Access Genie from your desktop via the secure web portal.
Genie card reader

It's easy to use, secure and reliable. Small enough to add it to your belt or pop it in your pocket. Take card payments anywhere, anytime with ease.
Transaction account
If you're new to Westpac, we'll set you up with a Business One Low Account*, otherwise you can choose to settle into an eligible existing account.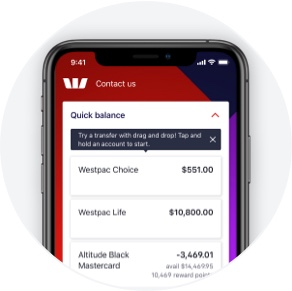 Online Banking
If you're new to Westpac, we'll set you up with access to Online Banking and our award winning1 Westpac Mobile Banking Apps.

How it works
Did you know?

Genie has been designed for sole trader & sole director businesses.
For companies with more than one director or that require more than one terminal, we offer EFTPOS 1.

1. Process payments for multiple items in a single sale.
2. Choose from your most popular items or manually enter a price.
3. Track all of your sales whether your customers pay by cash or card.
4. Send receipts at the point of sale.

1. Create and send an invoice in just a few taps.

2. Add messages to your invoices.

3. Track overdue invoices and total amounts owing.
4. Easily see your communications with your customer, and chase payments from the app.
1. Create shortcuts for your popular products and services.
2. Add Images and descriptions and choose whether GST applies on each.
3. Items will sync across your devices so they're with you wherever you go.
4. Keep track of your top selling items and how many you've sold.
1. Email receipts – enter an address or look up from your contacts list.

2. View all your receipts and see a summary of your takings by day, week and month.

3. View itemised breakdown of each transaction and re-send receipts.
4. Your customer will get an itemised email too.

Our Pay As You Go (PAYG) plan2 means you only pay for the transactions you take, giving you the confidence and flexibility when managing your expenses.
$0 monthly plan fee
No transaction limit
Flat rate of 1.95% for all eftpos, Mastercard® and Visa transactions
No minimum terms or lock in contracts
$100 upfront fee charged for a card reader to accept payments.
We want to get you up and running to accept payments as quickly as possible.

Once approved, it generally takes less than 5 business days to receive your card reader, and you'll be able to send invoices as soon as your facility is approved.
Apply online or over the phone. Our simple application takes less than 10 minutes, and includes everything you need to start accepting payments, including access to the Genie app and web portal, Genie card reader, a Business One Low transaction account* and Debit Mastercard.
If you're already a Westpac customer, you can also choose to settle into an eligible existing account.
If approved, we'll send you an email with your new details and an SMS with your Genie password straight away.
We'll send out your card reader within 1 business day and send you a tracking link once it's been dispatched.
Once you receive your card reader and install the Genie Mobile app* on your Android™ or iPhone, you'll be able to start taking payments instantly.
Things you should know
Genie Terms and conditions (PDF 1MB)
Applications for merchant services are subject to approval. Terms and conditions and fees and charges apply. Full details are available on request. Genie is currently available for Sole Traders and Sole Director companies only.

The Genie Mobile app is available on iPhone running iOS 8 or later and devices running Android™ 4.4 and above with Bluetooth® 4.0 compatibility.

1. Winner of the Best Innovative Online Banking Service in Money Magazine's 2015 Best of the Best Innovation awards and Good Design Award in the category of Digital and Online design - Good Design Australia 2014.
2. Genie is not available for use outside of the indirect tax zone.
*Product fees and charges apply.
World Mastercard®, Mastercard® and the Mastercard brand mark are registered trademarks, and PayPass is a trademark of Mastercard International Incorporated.
Apple, the Apple logo and iPhone are trademarks of Apple Inc., registered in the U.S. and other countries. Apple Watch is a trademark of Apple Inc. App Store is a service mark of Apple Inc.
Android is a trademark of Google Inc.