Merchant services
Take payments in-store or online with ease.
Our EFTPOS Solutions
Accepting EFTPOS payments at the counter or on the move.

Instant Settlement1
Receive your daily business takings instantly which helps to keep your cash flowing.
24/7 technical support
We're on call 24/7 to ensure your business stays running.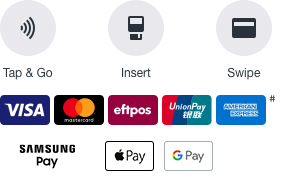 Standalone EFTPOS machine
EFTPOS 1
Save up to $322.50
Order a new EFTPOS 1 terminal between 6 May 2019 and 30 September 2020 on a merchant pricing plan and pay:


$0 establishment fee (saving you $82.50) 3
$0 monthly plan fee for the first 12 months on a Business One High or Low Plan account while on your EFTPOS 1 pricing plan (saving you up to $240) 4.

T&Cs and exclusions apply.

In-store and on the move

Lightweight and portable
Sleek design with large colour touch screen
Print receipts and split bills
Flexible plans as there are no lock-in contracts2
Great for retail shops and cafes.
Apply online in 10 minutes
Integrated EFTPOS solutions
EFTPOS machines that integrate seamlessly with a range of Point of Sale (POS) systems.

Need help?
Compare EFTPOS machines or choose a payment solution for your business using our handy tool.
Help me choose a payment solution for my business
Compare our EFTPOS terminals

Accept payments online or over the phone
Learn about how we could help your business with accepting payments online, over the phone or in high volumes.

Frequently asked questions
It's worth carrying out research to help you identify the right payment system for your business needs. A great place to start could be our handy Payment Solution Selector Tool, which is designed to help you find payment products that may match your specific requirements. You can also compare EFTPOS machines.
EFTPOS stands for Electronic Funds Transfer at the Point of Sale. It is the term used to describe an electronic payment system (or machine or terminal) that enables the taking of payments by debit, credit and charge cards. EFTPOS machines – which can be standalone or connected to a Point of Sale (POS) system – facilitate the movement of funds from a customer's card account to a nominated business' bank account.

Then there is eftpos (not in capitals), which is the debit card payment system that takes funds directly from a customer's cheque or savings transaction account to pay for purchases in store.
Yes, if it is compatible. Having EFTPOS that integrates with your Point of Sale system helps speed up payments and avoid errors, as you won't have to key each amount into your EFTPOS machine. Westpac offers Presto Smart EFTPOS machines that integrate with a variety of popular POS systems and EFTPOS 1i that integrates with a range of PC-EFTPOS POS systems.
Systems vary by provider, but with Westpac EFTPOS systems the terminals generally connect via Wi-Fi, ethernet or the mobile network. If the network has an outage, transactions are stored offline in the terminal until the network is back up and running, at which point they can be transferred. Alternatively, with systems other than the E1i, Westpac customers can connect via their Wi-Fi to maintain live payment transfers.
Things you should know
Applications for merchant services are subject to approval. Terms and Conditions and other fees and charges (PDF 1MB) apply. Full details are available on request.
1. Westpac instant settlement functionality is not available between 9:30pm and 11:59pm (Sydney time) for all EFTPOS 1, EFTPOS 1i and Presto Smart terminals. You can only settle a Westpac issued EFTPOS terminal once within a 24 hour period. Subject to system availability, settlement can take place 7 days a week. Settlement must be to a Westpac business transaction account. Instant settlement functionality is not available on Corporate Online and is only available for Visa, Mastercard and eftpos transactions (excludes UnionPay transactions).
2. Cancellation fee applies. Changes to merchant pricing plans are effective from the following month.
3. The Establishment Fee will be waived for successful application for a new Merchant Facility with an EFTPOS 1 standalone or Presto Smart terminal on a Merchant Pricing Plan. Eligibility criteria apply for a Merchant Facility and Merchant Pricing Plans. This offer may be withdrawn or varied at any time.
4. The monthly account fee, currently $10 per month, for your Business One Low Plan account or $20 per month, for your Business One High Plan account will be waived for the first 12 months while you continue to hold and settle a Merchant Facility on a Merchant Pricing Plan. After the end of 12-month period, the standard monthly account fee (applicable at that time) will be applied. The Business One Low Plan or High Plan account must be in the same name as the Merchant Facility. This offer is not applicable for any other account type and for a single account per Merchant Pricing Plan only. All other account fees and charges apply. Where you do not hold a Business One Low Plan or High Plan account or cease to hold a Merchant Facility on a Merchant Pricing Plan, the standard monthly account fee will apply for the account. This offer may be withdrawn or varied at any time.
5. Standalone mode allows you to process card payments even when the POS is not connected to your EFTPOS terminal.
# If you want to accept American Express, you'll need to call 1300 363 614 to enter into a separate merchant agreement with American Express.
Mastercard® is a registered trademark of Mastercard International Incorporated.
American Express® is a registered trademark of American Express.