How to create an invoice template

Congratulations! You've set up your business, got the word out, and won yourself a customer or two. Now you're ready to send out your first invoice. But where do you start?
Key take-outs
Design your own or obtain a template
Ensure you include the correct information
Make it easy to get paid
1. Create your own invoice template

When you're ready to start invoicing, there are a few ways you can get an invoice template:
If you want to design your own invoice, the Australian Tax Office voluntary standards provide a good guide to what to include and how to lay out the information.
If you want to use a pre-designed free invoice template with GST, you can download this

free Excel invoice template (XLS 13KB)

and add your business details to it.
If you hold an eligible Westpac account1, you can use our complimentary Biz Invoice invoicing tool through online banking1. Add your name, details and logo to its Australian invoice template, then generate, email and manage invoices from your mobile, laptop or PC.
Take a look at our Biz Invoice examples to see how professional your invoices could look.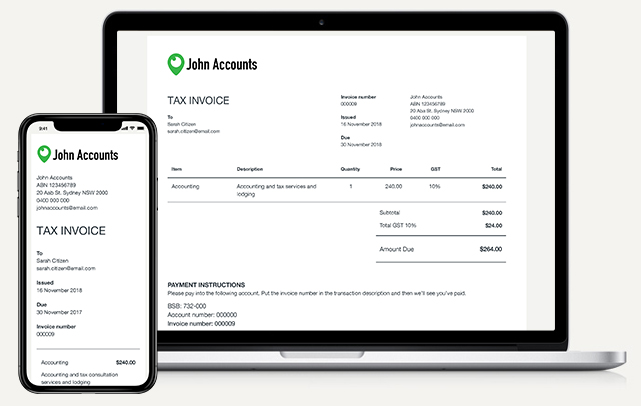 This example is an invoice linked to a Business One Low or High transaction account. Click here to see a foreign currency account invoice, which differs2.
2. Put the right details on the invoice

Your invoice represents your business, so you want it to be as professional looking as possible. Not only should it ideally feature your business logo, but there are other important details you need to include:
Your information:
Business name – if you are a sole trader or freelancer you can use your personal name
Business address
Contact details
ABN/ACN
If you are GST registered your invoice should include the words 'tax invoice' and you need to include the GST amount for each item along with some extra details. If you're not registered for GST, you don't need to show these words and your invoice should show that no GST was charged on the purchase. Check out www.business.gov.au for useful information on invoice types
Your customer's information:
Make sure you have the correct customer name, contact details and address.
Details of the goods/services bought:

List the products you sold, their prices and how many were sold. Or, if you were providing a service, include a description of the work you did and the fees involved so your customer is clear. If there is a reference number make sure it is included.
Handy tip:
If you use Westpac's Biz Invoice template and invoicing tool, you can build records of customers, products, services and prices to avoid typing them out each time. Please note that if linked to a foreign currency account, Biz Invoice will not calculate GST or any tax that may be required in your customer's country.
3. Make it easy to get paid

Specify the reference you want your customers to include on their payment to you, which might be their specific invoice number. Make sure you include the payment methods you accept (i.e. your business bank account details and/or how customers can pay via credit card). Also, mention on the invoice your payment terms and due date.
If you use Biz Invoice - our complimentary invoicing tool - your email invoices will feature the details of your eligible1 Westpac bank account to help speed up payments. Please note however that payment of foreign currency account invoices can only be made using direct deposit via international transfer (fees and charges may apply).
A smart-looking invoice – featuring all the correct information – helps your company appear legitimate and professional to its customers. The good news is that with Biz Invoice can help you to achieve that extra credibility.
Things you should know
1. To be eligible for Biz Invoice you must hold a Business One Low or High Plan account or a foreign currency account (other than Chinese Yuan RMB) and be registered for Westpac Live Online Banking. Terms, conditions and fees apply. Before making a decision, read the disclosure documents for your selected product or service, including the Product Disclosure Statement and T&Cs, by clicking the above links and consider if the product is right for you.
2. If linked to a foreign currency account, Biz Invoice will not calculate GST or any tax that may be required in your customer's country and the BPAY® option is not available. Payment of foreign currency account invoices can only be made using direct deposit via international transfer.
The information in this article is general in nature and does not take your objectives, financial situation or needs into account. Consider its appropriateness to these factors; and we recommend you seek independent professional advice about your specific circumstances before making any decisions.
BPAY® and Osko® are registered trademarks of BPAY Pty Ltd ABN 69 079 137 518.