Building wealth
Your business is growing and you may be considering expanding. We look at how you might manage the growth and keep ahead of your customer's needs, without extending beyond your limits.
Choosing how to invest your business profits requires research and strategy, plus some good financial advice. We look at different investment solutions, and the factors you may need to take into consideration.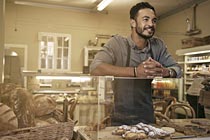 The key to a growing profitable business is customers. Converting a steady stream of buying customers into profits creates significant value in a business due to goodwill. We look at how you can maximise goodwill to your advantage.
Which loan is right for you?
Things you should know
General advice: This information is general only and does not constitute any recommendation or advice. It is current at the time of publication, and is subject to change. It has been prepared without taking account of your objectives, financial situation or needs. Because of this you should, before acting on the information, consider its appropriateness, having regard to these matters. Consider obtaining personalised advice from a professional financial adviser and your accountant before making any financial decisions in relation to the matters discussed in this document, including when considering the finance options for your business.