Biz Invoice - online invoicing tool
Generate, send and manage invoices on the go, using your smartphone, tablet or laptop.
Biz Invoice is complimentary with an eligible business transaction or foreign currency account1. You can use its invoicing template and timesaving features through your Westpac mobile app and online banking.
How could it benefit my business?

Complimentary with Business One Low and High Plan accounts and foreign currency accounts 1
Encourages fast payments with simple ways to pay
Helps to save you time with drafting, sending and managing invoices
Avoids the hassle of chasing with automatic payment reminders
Keeps you mobile with invoicing on the move
Can share information with a bookkeeper or accountant who has access to your eligible accounts
Helps you stay on top with an overview of invoices reconciled in the past 30 days, plus total amounts overdue or unpaid
Calculate GST on invoices available for profiles linked to Business One Low Plan and High Plan accounts.
What could I most love about Biz Invoice?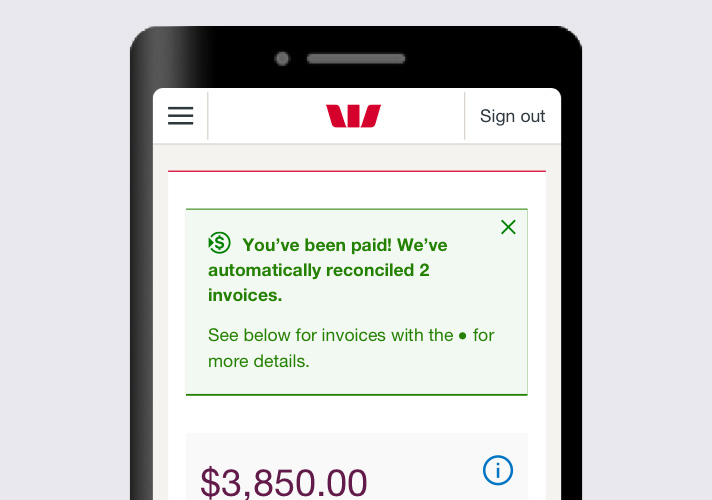 Enjoy automatic reconciliation
For profiles linked to Business One accounts, if your customer makes their payment with the correct payment description, Biz Invoice automatically reconciles the payment to the correct invoice that it relates to.2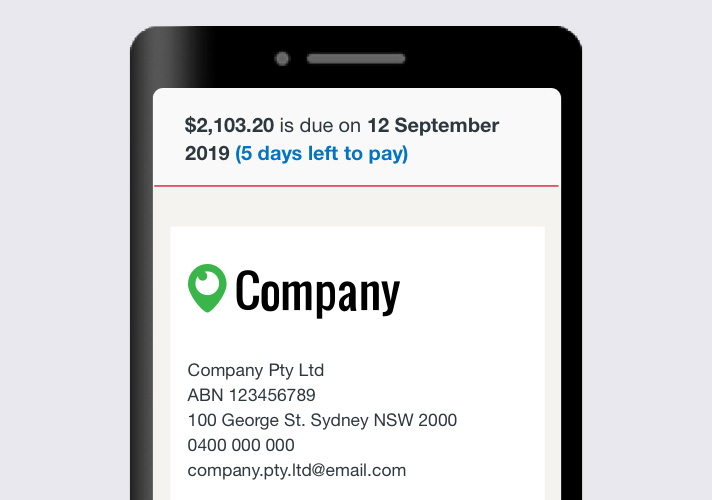 Send professional-looking invoices
Reinforce the credibility of your business by personalising your free online invoice template with your logo and/or trading name.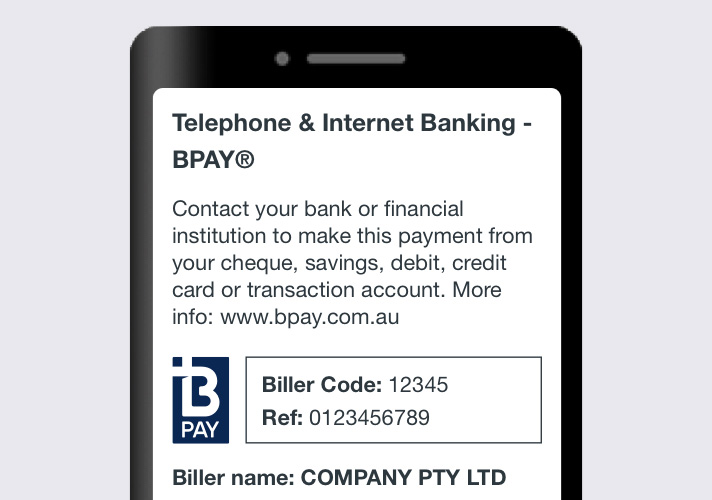 Offer convenient payment options
Help speed up payments with clear bank transfer instructions on your emailed invoices - and eligible sole traders3 with a Business One Low or Business One High account can now set up BPAY®. Better still, we'll cover the $150 BPAY set up fee3 if you choose to accept this method.

How do I start using Biz Invoice?
Biz Invoice could help if you are:
  
A sole trader or small business looking for an online invoicing solution
Keen to manage invoicing when mobile
Fed up with chasing late payments
Seeking to spend less time on reconciling invoices
Invoicing customers who are overseas.
How is Biz Invoice helping business people like you?

"Biz Invoice saves me time and the template looks professional."
Joshua Costa, Costa Contractors Pty Ltd
"Biz Invoice is easy to use and I needed an invoicing tool. Biz Invoice is on the cloud, you can access it anywhere. It's all in one place."
Edwin Polis, Owner, AAA Claims

Step by step how to guides
Things you should know
BPAY® is a registered trademark of BPAY Pty Ltd ABN 69 079 137 518.