Environmental solutions

Helping find solutions to environmental challenges.
Why is this important?
Issues such as scarcity of water and arable land, providing food for a growing global population, responding to climate change and the transformation of the energy sector are changing the way natural resources are accessed and valued.
As a major financial institution, we believe we have a broad role to play in tackling these challenges in the areas where we can have the most influence.
Taking action
We are focusing on three key areas:
Managing carbon and environmental risk
Supporting customers
Partnering with suppliers
Reducing our environmental footprint
Engaging employee
Initiatives in action
Between 2011 and 2015, Westpac increased the proportion of renewable energy financing from 45% to 61% in its total electricity generation portfolio.
Westpac Institutional Bank partnered with the World Bank as joint lead manager to bring the first green bonds to the Australian domestic market.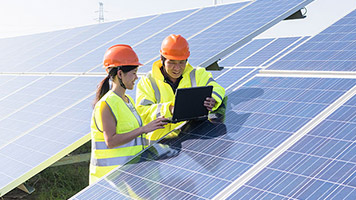 Westpac's lending to the CleanTech and environmental services sector reached $6.1 billion at 30 September 2015, ahead of its 2017 target.
Westpac's Singapore office was one of the region's first tenancies to be awarded the highest Platinum rating by Leadership in Energy & Environmental Design (LEED).
Our progress
How we are tracking against our measures:
Measure
2013
2014
2015
2016
Target by 2017
Provide products and services to help customers adapt to environmental challenges
Unique service offers launched (cumulative number)
2
4
4
6

5
Increase lending and investment in CleanTech and environmental services
Make up to $6 billion available for lending and investment in CleanTech and environmental services ($b)1
6.4
8.0
6.1
6.2
Up to 6.0
Reduce our environmental footprint
Maintain carbon neutrality
Achieved
Maintained
Maintained
Maintained
Maintained
Electricity usage in commercial and retail sites (MWh)2
172,956
169,839
165,402
155,917
154,496
Electricity efficiency /m2 in commercial and retail sites (kWh/m)2/3
200
198
193
180
181
Scope 18r2 GHG emissions in commercial and retail sites (tonnes CO2e)2
137,374
131,393
127,608
115,484
121,884
Power Usage Effectiveness (PUE) - Australia
1.7
1.7
1.7
1.6
1.6
Office paper (tonnes)
1,523
1,415
1,299
1,257
1,340
Water consumption in Sydney head offices (kL)
-
171,330
171,559
140,708
137,064
Recycling rates in Sydney head offices (%)
55
59
61
73
75
1. From 2015, a higher threshold was used for green buildings, in line with property industry trends, accounting for the majority of the change from the previous year.
2. Electricity efficiency, electricity usage and GHG targets include all Australian and New Zealand commercial and retail properties only. Excludes ATMs, stand-alone data centres and fleet.
3. Rebase-lined in 2014/2015 to align boundary and methodology used in New Zealand to be consistent with Australia.